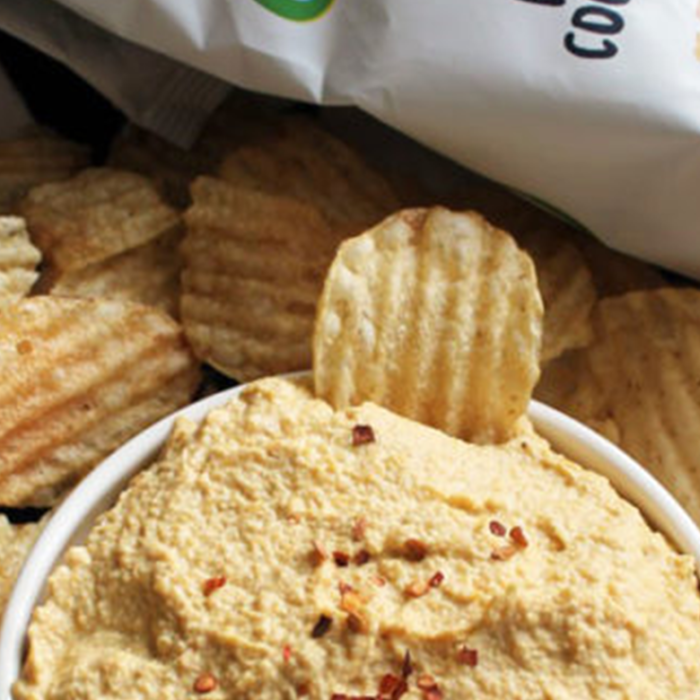 Butternut Squash "Cheese" Dip
Prep Time: 30 minutes
Serves: 5-7
Provided By: Nicole Cogan
1.5 cups peeled and cubed butternut squash

1.5 cups soaked cashews

1/4 cup unsweetened nut milk

2 tbsp tbsp extra virgin olive oil (1T was used in sautéing the squash. 1T was added after)

2 garlic cloves

1 or 1 1/2 tsp sea salt

4 tbsp nutritional yeast

Juice from half a lemon

Your favorite flavor of Cape Cod Waves Potato Chips
Soak cashews in water overnight (or for at least 3 hours) Drain water out.
Boil butternut squash cubes, or steam them in the microwave, until the cubes are cooked through.
TWO OPTIONS HERE:

Sauté the boiled/steamed squash in 1T olive oil on a skillet OR leave as is.

Place cashews (they will be soggy), butternut squash, unsweetened nut milk, crushed garlic, salt, nutritional yeast, and juice from half of a lemon in a food processor or Vitamix.

If you sautéed the butternut squash in olive oil while you were preparing it, only add ONE more T of Olive Oil to the blender. If you only steamed the root, add 2T of olive oil to the blender.

Blend on High

I had to stop and scrape the sides of my Vitamix 2-3 times before the cheese dip was thoroughly blended.

Pour your 'cheese' into a bowl or add to a platter, and serve alongside your favorite flavor of Cape Cod Waves® Flavor Potato Chips. I recommend Sea Salt or Less Fat Sea Salt for this dip.