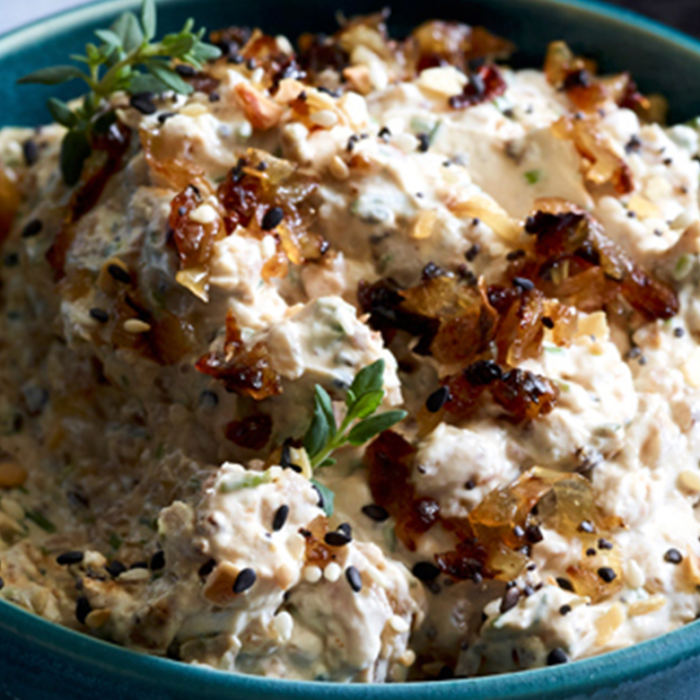 Roasted Onion Dip
2 pounds large yellow onions, thinly sliced

3 large shallots, thinly sliced

4 sprigs thyme

1/4 cup olive oil

Kosher salt and freshly ground black pepper

1 cup white wine

2 tablespoons champagne vinegar

2 cups sour cream

1/2 cup chopped fresh chives

1/4 cup plain Greek yogurt

Everything seasoning and thyme to garnish

Cape Cod Waves™ Potato Chips for serving
Preheat oven to 425°. Mix onions, shallots, thyme sprigs, and oil in a large roasting pan. Season with salt and pepper.
Roast onion mixture, stirring and scraping down sides of pan every 10 minutes, until mixture starts to break down and turn golden brown, 45–55 minutes.
Discard thyme sprigs. Add wine and vinegar; stir to scrape up any browned bits from bottom of pan. Return onion mixture to oven. Continue roasting, stirring occasionally, until deep golden brown and completely caramelized, about 15 minutes longer. Spread onion mixture out on a rimmed baking sheet to cool.

Transfer onion mixture to a work surface and finely chop. Transfer the onion mixture to a medium bowl, reserving 2 tablespoons for garnish. Stir in sour cream, chives, and yogurt. Season with salt, thyme and everything seasoning. Serve with Cape Cod Waves® Potato Chips.